**Winners of Nursery of the Year 2023 ( South of England- NDNA)**
Full Time : Temporary Contract: 40 hours per week with flexible shifts between 8:00-18:00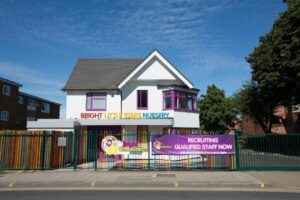 Bright Little Stars are seeking an experienced and professional Deputy Manager to lead and inspire our welcoming and long standing Harrow Team! You must be a strong leader with experience, nurturing a team, role modelling high quality childcare across the nursery setting whilst supporting the manager in the day to day running of the setting. You must have experience in supporting room-based educators in developing and enhancing performance to deliver outstanding practice.
As Deputy Manager, you will need to demonstrate a high level of integrity, take ownership of personal and team actions, communicate effectively, promote collaboration, and nurture a positive, professional work environment. Knowledge around the new Ofsted inspection framework is vital.
The role offers fantastic opportunities for career development and training opportunities as well as amazing employee benefits!
Some of your responsibilities will include:
Lead by Example: Set the tone for a nurturing and respectful atmosphere in every room.
Provide guidance and Spending 16 hours a week in the learning room, coaching and mentoring the team.
Achieving and maintaining high standards of care and education
Ensuring all policies, procedures and curriculums are always implemented and adhered to
Parent Partnership: to be influential in developing strong links with parents.
Takes a leading point with day-to-day operations, working closely with the Manager.
Drive the development of an outstanding, nurturing, and caring environment.
Taking Lead in completing and maintaining the entire nursery cohort tracker.
Monitoring all practices ensuring the safeguarding of all the children.
Taking full responsibility for the nursery in the absence of the Nursery Mana
You will need to have the following qualifications, training, and experience:
NNEB, CACHE Level 3, NVQ Level 3 or above
Excellent knowledge of health and safety legislation
Excellent knowledge of the EYFS and knowledge of OFSTED standards and inspection framework
Excellent organisational skills with the ability to work to targets and deadlines.
Good time management skills
Strong people management skills
Knowledge and understanding of equal opportunities / SENCO etc.
Previous relevant supervisory experience
Bright Little Stars Benefits Package:
Competitive Salary of up to £35,303 reviewed annually!
Refer a friend Bonus of £500 (Unlimited!) *
Excellent Benefits: Annual Leave; employee of the month prizes, high street discounts, including a birthday day off, welcome Gift bag, paid vacation, Bonus schemes! Option to carry over 5 annual leave days.
BLS Bucks Incentive Programmes rewarding you with prizes such as Virgin Experience Days
Work-Life Balance: We understand the importance of personal time by encouraging a healthy work-life balance with flexible work hours, 4-to-5-day week and ample time-off policies.
Wellbeing App with Private GP appointments, financial and mental health support, online fitness and mindfulness, and more.
Discounted childcare for employees
Free wholesome hot lunches provided by the Nursery Chef
Dynamic Work Environment
Recognition and Rewards: 5 and 10 year service reward scheme including a paid vacation and extra time off for this! Plus, Annual Service Celebrations
Inclusive Culture where your views matter
It Doesn't stop there……
Senior Career Enhancement through the BLS Management Training Programme and paid study days.
 Team Building and events 3 times a year to promote a strong sense of community and camaraderie among our staff.
Cycle to work scheme.
So why not click apply and join the Bright Little Stars Family!