Bright Little Stars Nursery in Watford and Mill Hill had a fantastic time hosting Coffee Mornings for Macmillan Cancer Support inviting their staff and families.
Both nurseries expressed how they have "sadly lost loved ones in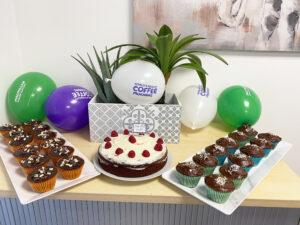 the recent past and are sure that may also be the case for others. To give thanks for all the amazing work the MacMillan team provides to help and support those suffering through this dreadful disease, along with their families who are given such understanding at a difficult time, we would like to ask our friends and families to make any donation that you can."
Macmillan Coffee Morning, hosted by Macmillan Cancer Support, is one of the biggest fundraising events to support people who are living with cancer.
Bright Little Stars Nursery matched the donations of all parents and employees, bringing the total amount of money raised to £826.81.
Selina Johnson and Denise Hamilton, who are part of the Watford Nursery team, said "We would like to personally thank you and everyone who donated as this cause is something we hold very dear to our hearts as from experience we know just what an amazing job the Macmillan team do."
Elaine, Lauren and Kelly at the Mill Hill Nursery extended their gratitude by saying "Thank you all for who donated we had such a lovely morning networking with the parents over a nice warm tea and coffee. It was a great opportunity to support such a caring charity and be able to raise a generous amount of money."
Mandy Guttadauro, Operations Director expressed "As a senior management team we're delighted when our staff want to raise money for a charity of their choice, in this case, Macmillan Cancer. We are always overwhelmed by the donations from staff and parents and enjoy matching the donations to support further. We will continue to do so; knowing that we are making a difference."
For further information about Bright Little Stars Nursery, visit https://www.brightlittlestars.com/