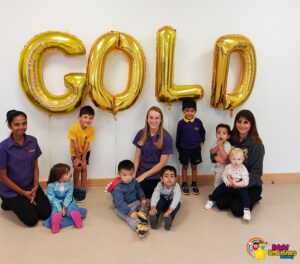 Bright Little Stars are proud to share that our Stanmore branch has achieved the Gold award in Healthy Early Years London and are the first day Nursery in Harrow to achieve this. Healthy Early Years London (HEYL) is an awards scheme funded by the Mayor of London which supports and recognises achievements in child health, wellbeing, and development in early years settings. HEYL complements and enhances the statutory Early Years Foundation Stage framework, adding to the focus on children, families, and staff health and wellbeing.
At Bright Little Stars we are incredibly passionate about teaching our children how to be healthy. We work in partnership with a qualified nutritionist to create recipes and menus and are very proud of the food that we provide. We love finding new and exciting ways to incorporate food in our classrooms and encourage the children to grow fruit and vegetables that they can use to cook with.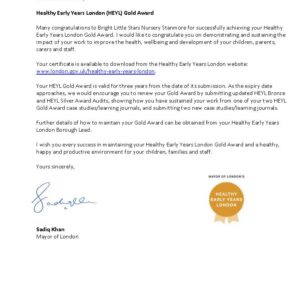 Ruby Tilley, Nursery Manager said 'I am delighted to announce the achievement of our Gold Award. Since 2019 we have been working with our staff, children, and families to promote the importance of a Healthy Lifestyle. I am so proud that we are the first day nursery in Harrow to attain this award and finally showcase all our hard work to everyone.  A massive well done to the whole staff team who have been incorporating this in their everyday practice. This does not stop here as we will still be striving to accomplish more positive changes and continue supporting our children's wellbeing and happiness'.
Dianne Borien, Harrow Borough lead for Healthy Early Years London, expressed "A big congratulations to Bright Little Stars Stanmore who are the first day nursery in Harrow to achieve their Gold Healthy Early Years London award!
They have demonstrated excellent practice in promoting the twelve Health, Wellbeing, and Education Priorities, which I witnessed first hand when visiting the nursery.
This excellent practice is impacting on the outcomes of children, families, staff, and future children and families. Well done to all those involved, a fantastic achievement."
Since 2019 we have taken part in Healthy Early Years London (HEYL), an awards scheme funded by the Mayor of London where there are 4 levels of Awards to work towards- HEYL First Steps, Bronze, Silver, and Gold.
To qualify for the Awards, we have met specific criteria and standards in the following areas. We have submitted extensive evidence, audits, and case studies.
Personal development, behaviour, and welfare
Quality of teaching, learning, and assessment
Effectiveness of leadership and management
Develop aspects of work on health, well-being or education priorities
We are very proud of this fantastic achievement and look forward to applying for further awards throughout the group.
Bright Little Stars are fully committed to promoting high standards of oral health by means of educating staff, families, and children through fun educational creative play opportunities throughout our nurseries.
To find out more please visit: https://www.brightlittlestars.com/about-bright-little-stars/#6