Bright Little Stars Nursery in Watford are thrilled to celebrate the reopening of their Nursery Garden following an impressive £30k refurbishment for the staff and children to enjoy and flourish in.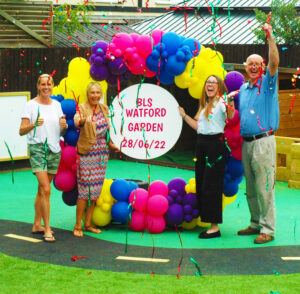 Every year throughout May, Bright Little Stars commits to a maintenance week to invest back into the nurseries to ensure that they are providing an exceptional environment and facilities to the children.
On Tuesday 28th June, the Nursery celebrated the official reopening of their garden with the presence of a very special guest Kelly Smith MBE OLY, a Former England International and Arsenal footballer. Kelly is a local resident of the Bright Little Stars Nursery in Watford and a community inspiration for aspiring footballers.
Councillor Tim Williams was in attendance and expressed a big "Well done to Bright Little Stars for the opening of their wonderful re-vamped garden, and likewise well done with getting Kelly Smith as the special guest – a true superstar and a true Garston girl."
The event consisted of a range of sports activities with the staff, Kelly, and the children in their fantastic new garden in addition to showcasing the new outdoor space to the local community and families who attend Bright Little Stars.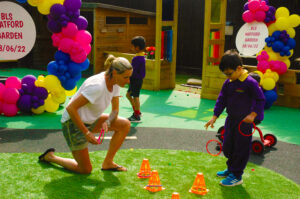 Kelly commented, "Being a part of the garden reopening was a privilege as we have two children under 5 and know exactly how beneficial this is for their growth. Growing up in Garston was great for me and led to a successful career by having places like this to play. It truly is beautiful."
Kelly is a patron of the  We Mind and Kelly Matters Charity supporting mental health which Bright Little Stars fully supports and has donated £150 to this important cause.
Bright Little Stars Watford prides itself on providing exceptional care and learning whilst supporting each child to reach their own individual potential in a happy, healthy, and safe learning environment.  The unique Bright Little Stars Learning Programme inclusive of extra-curricular clubs, modern facilities, on-site freshly prepared food and now a newly refurbished generous outdoor space makes this nursery group one of the most renowned in North West London.
Nursery Manager, Emily Hudson, said "Seeing the children's faces when they first saw the new garden was such a great moment. We are so fortunate at BLS, that despite the past few years' setbacks, in the midst of a pandemic, we are still able to invest back into what matters most- and that is providing outstanding opportunities for children. Having been here since the nursery very first opened in 2016 I feel so privileged to be part of an ever-growing community, inspiring awe, and wonder in the children's everyday play".
For more information about Bright Little Stars Watford, or to register for a viewing please visit:  www.brightlittlestars.com/watford/