January 2013 Bright Little Stars opened its first Nursery in Mill Hill. At the end of the first year, we had 87 parents registered with 20 staff members. Over the last 10 years, we are even more popular, and this number has grown and currently stands at 123 parents registered and we now have 53 members of staff.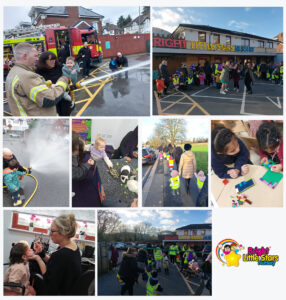 During the 10-year celebratory birthday week, children had a lot of wonderful experiences. We had visits from the local Fire Engine, and a farm, and had fun with face painting.
In addition, the children and staff joined in daily colour themes by dressing in blue, yellow, blue, and purple to match our Bright Little Stars logo.
Over the past 10 years, Bright Little Stars has supported the charity Barnardo's, taking part in the annual Big Toddle to raise much-needed funds. During this time the total amount raised is an impressive £10,303.00.
The company, as a collective, with the support of all the parents has helped to raise just over £31,000.00.
To mark our 10-year birthday we held our own Sponsored walk- a – thon, comprising of walking 10 laps around the local park throughout our Celebratory birthday week in January.
One lap for every year we have been open. The final lap comprised of staff, children, and parents totalling over 60 of us walking around the local park. We were very lucky as the sun was shining and the day finished with a wonderful party for all the children, parents, and staff both old and new to enjoy.
We are thrilled by the kind donations given through these events by our parents and employees and Bright Little Stars Nursery who contributed a very generous donation, bringing the total amount of money raised to an impressive £650 for the wonderful charity Barnados.
Mandy Guttadauro, Operations Director expressed "As a senior management team we're delighted when our families want to raise money for a charity of their choice, in this case, Barnardos. We are always overwhelmed by the donations from staff and parents and enjoy matching the donations to support further. We will continue to do so; knowing that we are making a difference."
We look forward to another decade of welcoming children and their families through our doors.
If you would like to donate , please follow this link: https://www.justgiving.com/fundraising/blsnurserymillhill