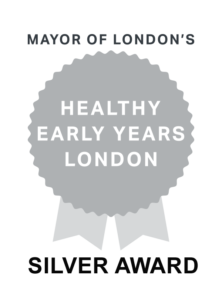 Bright Little Stars are proud to share that our Stanmore branch has achieved the Silver award in Healthy Early Years London and our Harrow branch have just received Bronze. Healthy Early Years London (HEYL) is an awards scheme funded by the Mayor of London which supports and recognises achievements in child health, wellbeing and development in early years settings. HEYL complements and enhances the statutory Early Years Foundation Stage framework, adding to the focus on children, families and staff health and wellbeing.
At Bright Little Stars we are incredibly passionate about teaching our children how to be healthy. We work in partnership with a qualified nutritionist to create recipes and menus and are very proud of the food that we provide. We love finding new and exciting ways to incorporate food in our classrooms and encourage the children to grow fruit and vegetables that they can use to cook with.
Since 2019 we have taken part in Healthy Early Years London (HEYL), an awards scheme funded by the Mayor of London where there are 4 levels of Awards to work towards- HEYL First Steps, Bronze, Silver and Gold.
To qualify for the Awards, we have met specific criteria and standards in the following areas. We have submitted extensive evidence, audits and case studies.
Personal development, behaviour and welfare
Quality of teaching, learning and assessment
Effectiveness of leadership and management
We are very proud of achievements so far and look forward to applying for further awards throughout the group.